Big sale for outdoor sofa set
Big sale for outdoor sofa set
DARWIN

FOSHAN

25-35DAYS

1000pcs/months

DW-SF2314
* Aluminum alloy material,and comfortable seat fabric
* The design of this outdoor sofa is very simple but unique
* Aluminum alloy material ensures the durability
* Easy to maintain
This outdoor sofa is an ideal outdoor furniture, featuring aluminum material, comfortable seat fabric, and simple and novel design, suitable for placement in any outdoor space. The following is a detailed introduction to this outdoor sofa:
Material: The frame of this outdoor sofa is made of high-quality aluminum , making it very durable and able to withstand the test of the outdoor environment. Aluminum alloy is rust-proof and lightweight, making it suitable for outdoor use.
Seating: The sofa includes a 3-seater and two single-seater, providing enough seating space for family and friends to enjoy outdoor time together. Comfortable seat and back cushions are used on the seats to ensure comfort even when sitting for long periods of time.
Coffee table: Comes with a simple style coffee table, which is convenient for placing drinks, snacks, magazines or other small items. This coffee table is very practical and makes outdoor entertaining more convenient.
Design: The design of this outdoor sofa is very simple but unique. It is suitable for various outdoor environments. Whether it is placed in the garden, balcony, terrace, or beside the swimming pool, it can perfectly integrate into the environment and enhance the beauty of the outdoor space. Its novel style and the modern feel of aluminum complement each other, making it a stylish outdoor furniture choice.
Durability: Aluminum alloy material ensures the durability of this outdoor sofa and is not susceptible to corrosion or damage. Seat and back cushions are typically made from waterproof, hard-wearing materials that can handle outdoor weather with ease.
Easy to maintain: This outdoor sofa is relatively easy to maintain and can be kept looking clean and tidy with a simple wipe and wash.
In short, this outdoor aluminum alloy sofa is an ideal outdoor furniture choice with its material durability, simple design, comfortable seats and multi-functional coffee table, suitable for various outdoor leisure places, adding to your outdoor space Elements of comfort and style.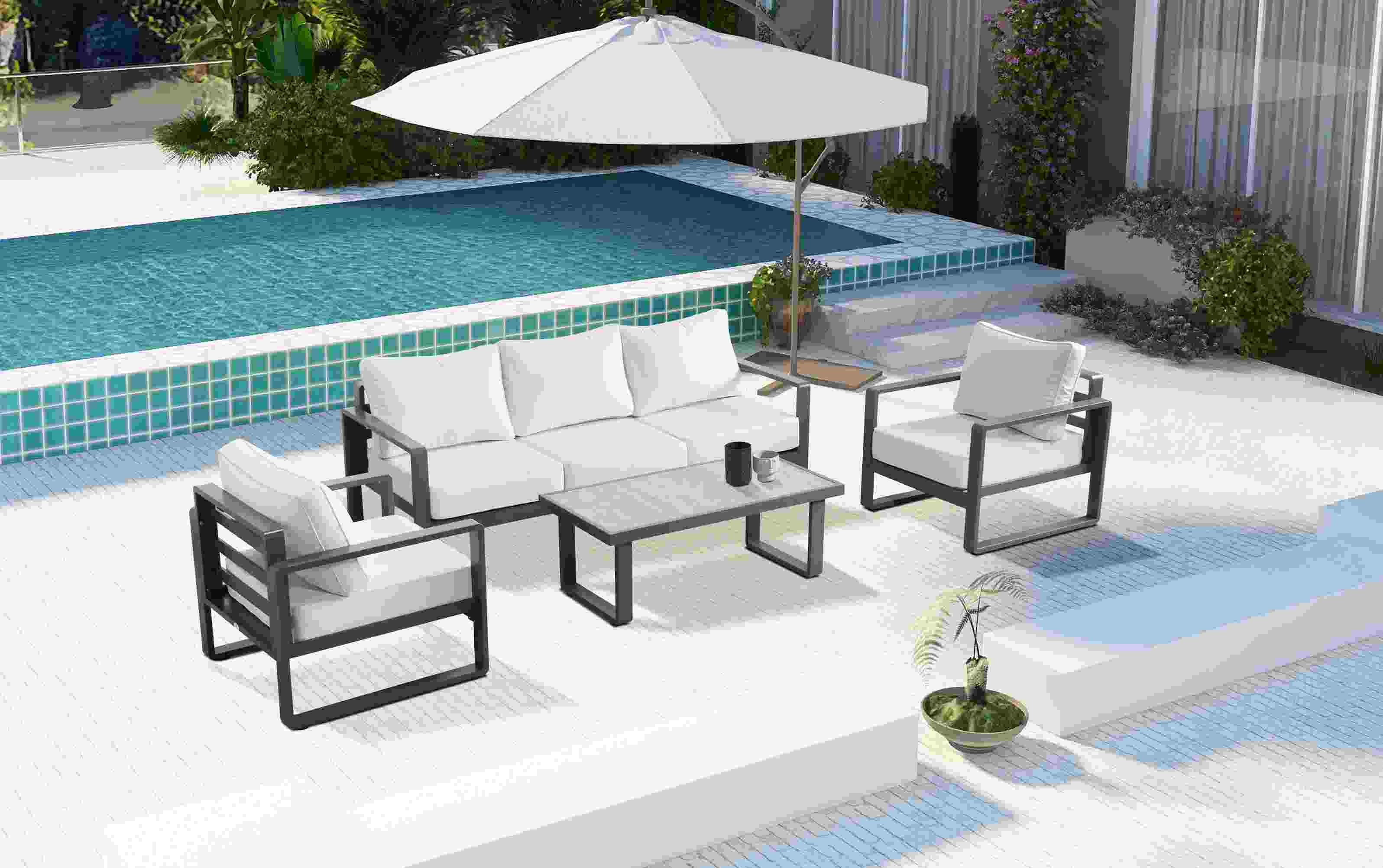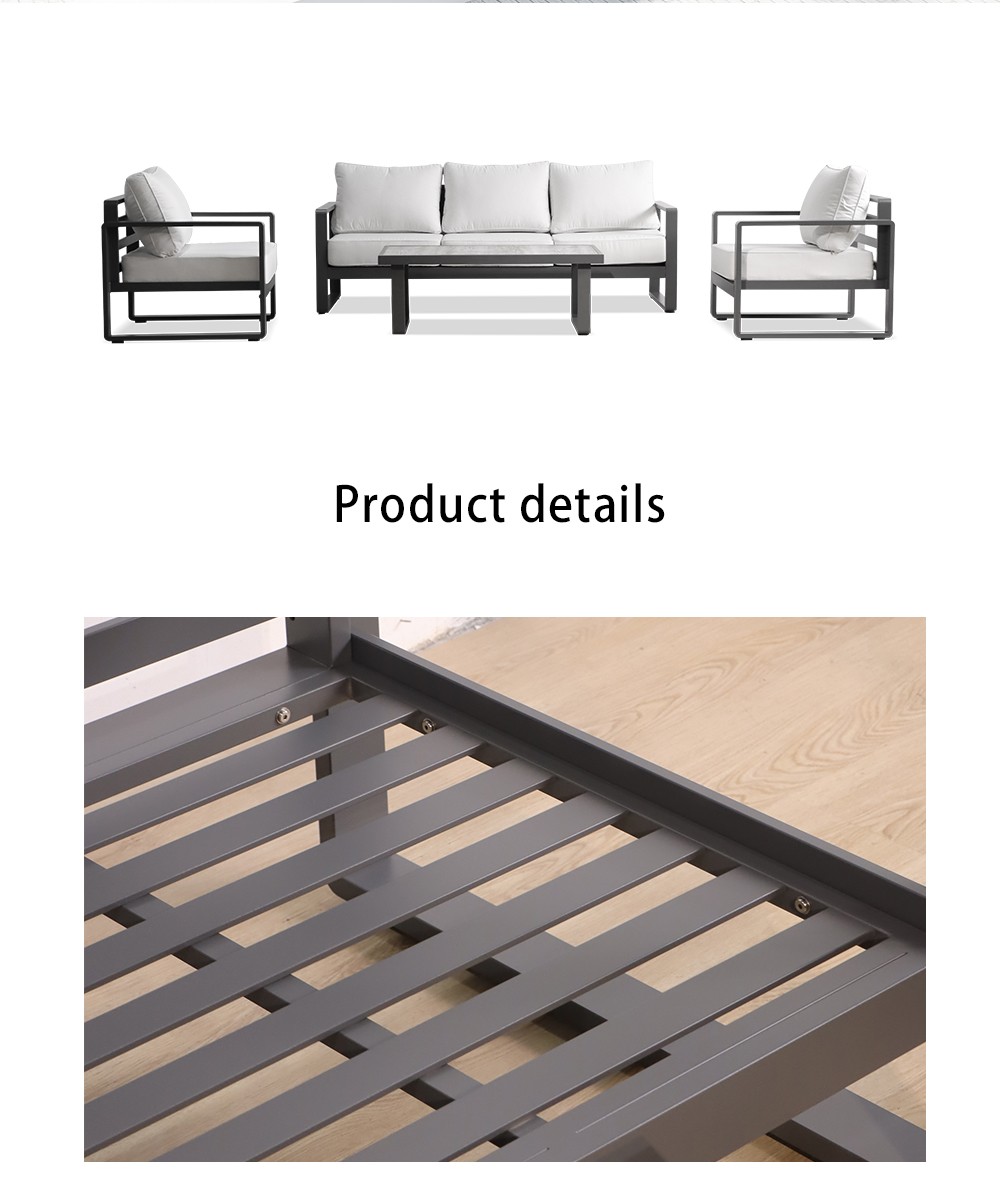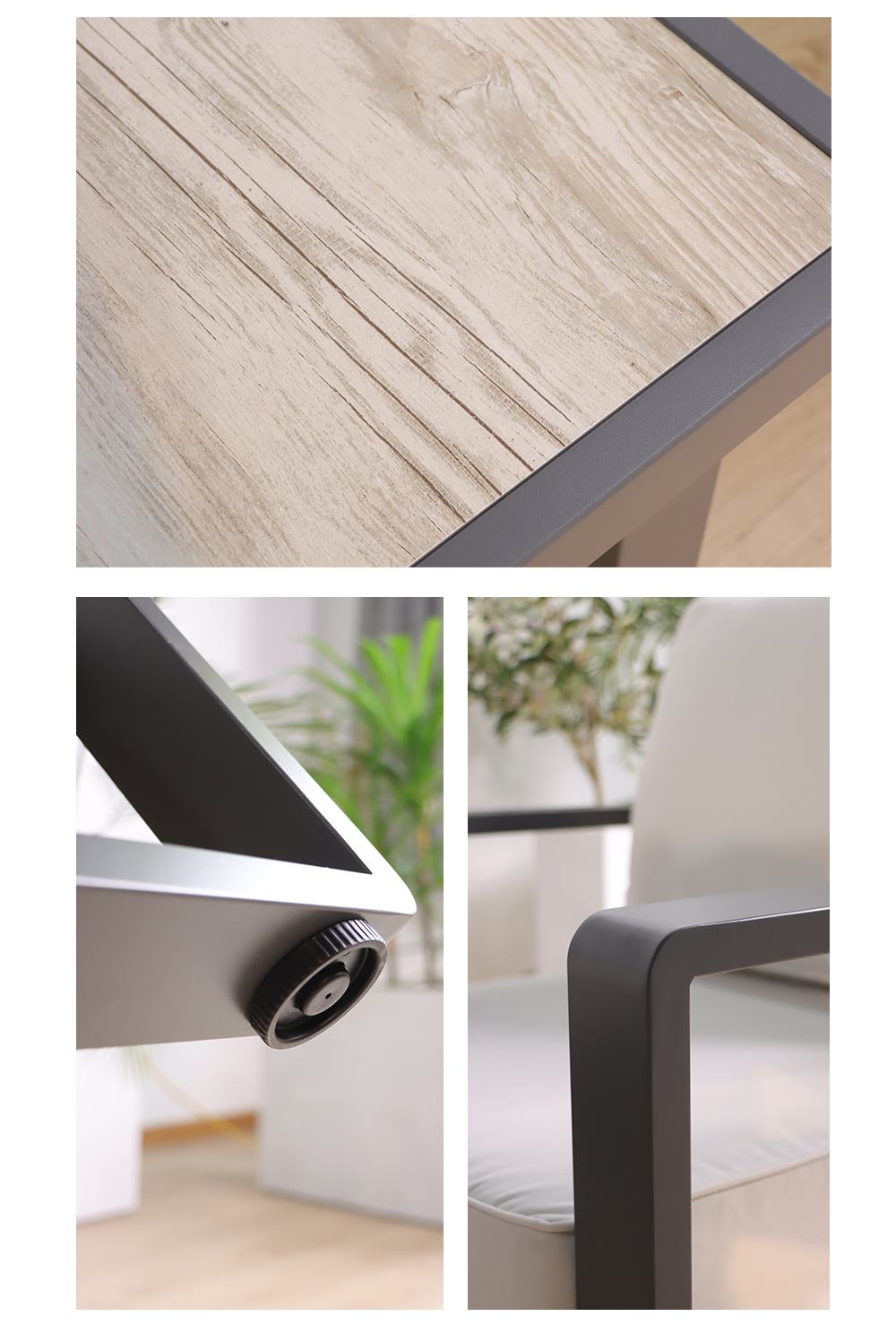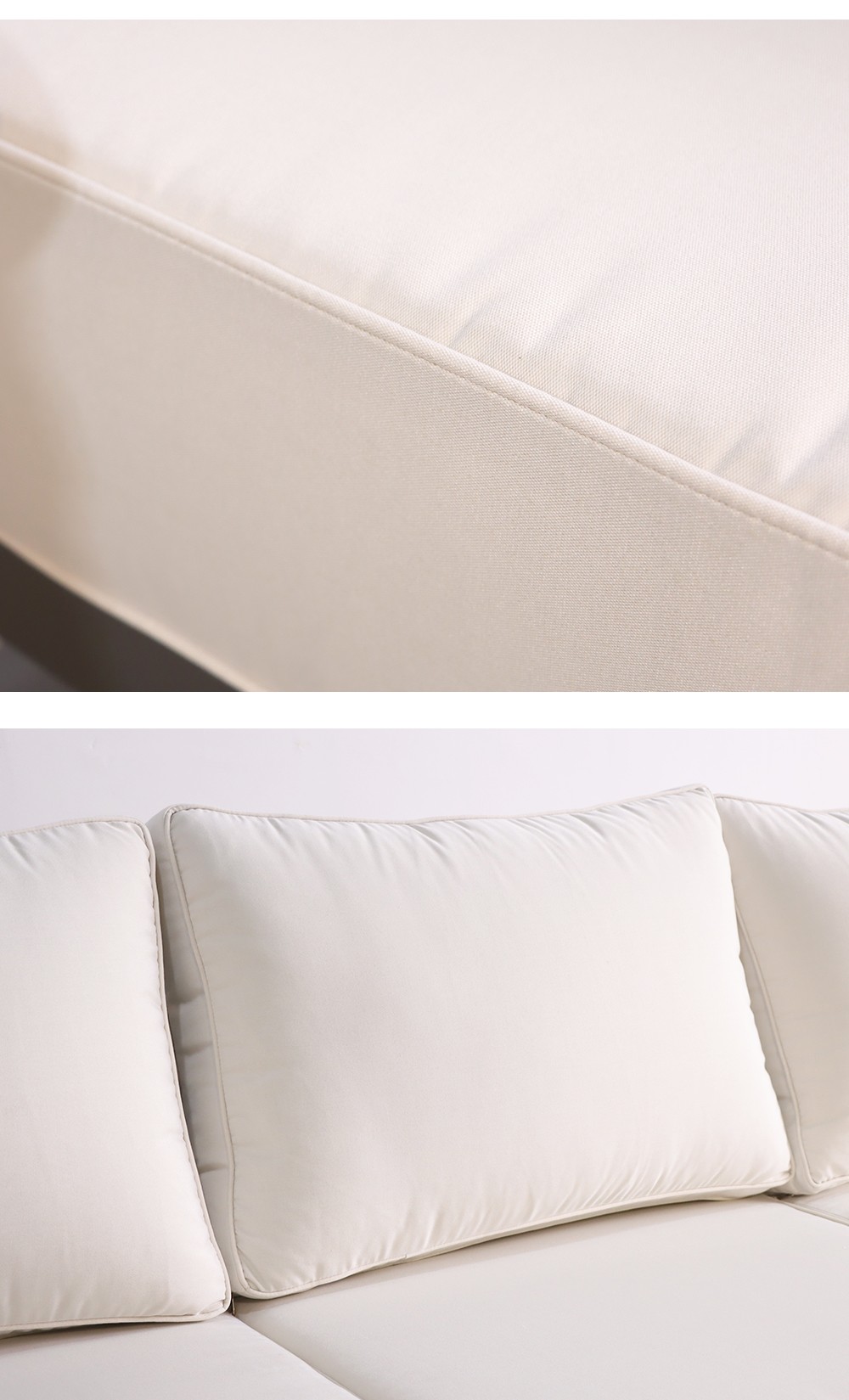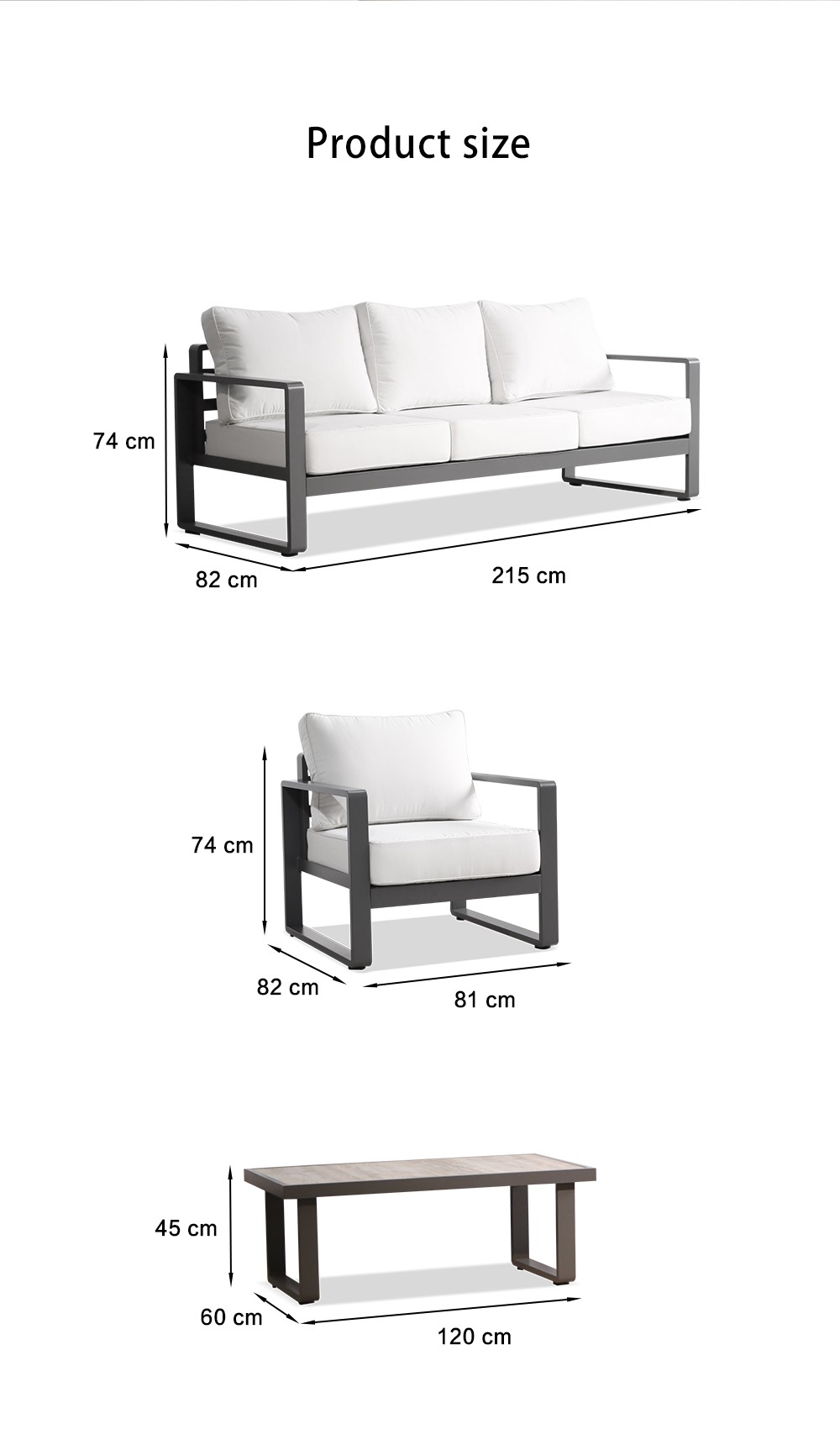 There are different kinds of material for your option.For decoration,we have rattan or rope weaving or mesh fabric.For the frame,we have aluminum,steel and stainless steel.For table top,there is glass,ceramic,marble,teak wood,polywood,HPL,etc
...more